KIT returns to West Tennessee! For the first time since 2004 Kumite in Tennessee will be held in Memphis.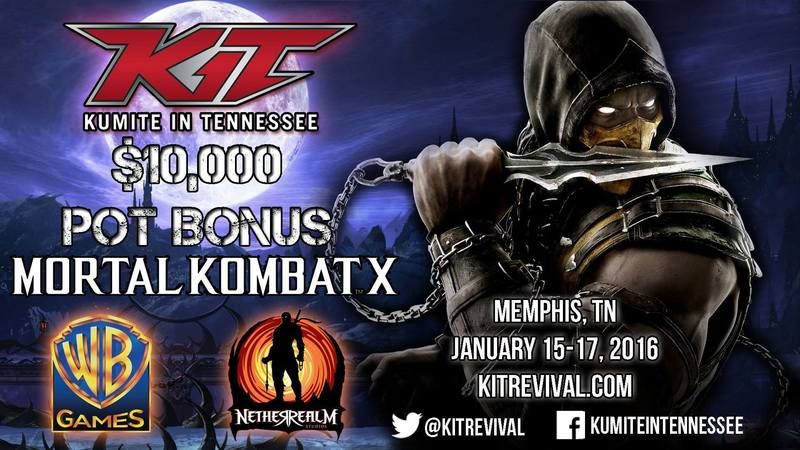 Date
January 15-17, 2016
Venue
:
Crowne Plaza Memphis East
2625 Thousand Oaks Blvd
Memphis, TN 38118
(901) 362-6200
To reserve your room for the $109 group rate:
Use the Reservation Link or call Central Reservation at 888-233-9450 and give the code "VGT" (Video Gaming Tournament)
Venue Features:
- Over 14,000 square feet of gaming!
- Complimentary free parking for hotel guests
- Free shuttle to and from the Memphis Airport (MEM)
- Several food options in immediate vicinity + hotel restaurant and catering
- 9.5 million dollar renovation will be completed in December
Tournament Registration:
Kumite in Tennessee 2016
KIT 2016 Registration Schedule
September 21: $25 (Early Bird Special)
September 26: $35
November 1: $40
December 1: $45
Onsite Friday January 15: $60 cash only (Available only until 3 PM)
Note: To protect seeding players ranked in the top 20 in any game listed at rank.shoryuken.com are not eligible for onsite registration for that respective game.
Game list
Mortal Kombat X
Smash Bros. Wii U
Melee
Project M
Ultra Street Fighter IV
Guilty Gear Xrd
Killer Instinct
Dead or Alive 5: Last Round
Ulitmate Marvel vs. Capcom 3
Soul Calibur V
Injustice: Gods Among Us
Prizes
:
Each game will pay out 60/30/10 based on entrants
Pot Bonuses TBA (stay t
uned!)
Streams
Complete list of Stream Channels will be announced at a later date.