This is a work in progress thread for forum member's suggestions for a possible Mortal Kombat 10. I CANNOT guarantee any Netherrealm Studios employees will be reading this, but you know how it is.
Features request:
Break into manageable parts. Leave your suggestions here. The sky is the limit.
Updated 21/10/14 (UK), 10/21/14 (USA)
=====Delay until 2015 to allow expanded features.
=====Call MKX steelbook edition "MKX Khrome Edition"
=====Add replays to MKX. Not only do they serve as a good way to relive and share your favorite matches, they're also an important tool at identifying your patterns and habbits as a player. Often at match speed many players don't even realize they (or their opponent) fall into certain patterns during a match. Additionally this gives players the ability to identify opponent tactics and plan around them in training mode.
=====Option to display hitboxes in training mode and replays. It's beneficial to developing a footsie game and prioritizing anti airs.
=====Blue flames for Liu Kang
=====Albino crocodile for Reptile's colour
=====Full-size history of MK, all inclusive artbook! Character designs, unmade characters, stages, concepts! EVERYTHING!
=====Able to optionally use Street Fighter-style hold-back-blocking instead of Mortal Kombat-style Button-blocking in Mortal Kombat X. It wouldn't give anybody any advantages and would actually make you more vulnerable to crossups than in Mortal Kombat-style Button-blocking, because in Mortal-Kombat-style Button-blocking, attacks are blocked the same way whether the opponent is on the left OR the right, unlike Street Fighter
=====As cyborgs get more damaged, we see tiny sparks appear around them a little bit.
=====Female cyborg with breast missiles like Aphrodite A
=====Personalized intro/outro dialogue based on character relationships.
=====Personalized (cancellable) taunts like Street Fighter 4 series during the match. As in Scorpion saying one thing to Sub-Zero during a fight, and something else to Quan Chi in another.
=====Nimble characters to do Tricking/Team Tricking/Parkour during cutscenes and during the fights for get ups after each round and/or for finishing moves.
[youtube]eJPu5lXYRh0[/youtube]
[youtube]NX7QNWEGcNI[/youtube]
List of moves for reference purposes: Roundoff Arabian, Roundoff Back 360, Raiz, Chuck Up, Roundoff Back 720, Aerial, Frontflip, Webster, Backtuck, Side Flip, Kip Up, Cartwheel Back-Tuck, Kick The Moon, Corkscrew, Butterfly Kick And Twist, Butterfly Twist Swing Through, Butterfly Twist Vault, Parkour Roll, Dive Roll, Round Off, Cartwheel, Handstand, 540 Cresdent, 540 Kick, Backflip Jujimufu, Au Batido, Backflip, Backhand Spring, Cheat Gainer, Double Leg, Flash Kick, Single Leg, Tornado Kick.
=====Realistic Foot Planting - Inverse Kinematics
With foot-planting and a robust next-gen animations engine, combined with motion capture, it will remove the canned animations in the game, you'll never see sliding feet, skipped animations, or repetitive jerky movements in MK. Athletes shift and move like real people instead of just hovering around a flat plane floating inside your TV or PC. Foot placement, along with accurate momentum, combine to bring the third trick to life.
[youtube]FJTBMnP6oCM[/youtube]
=====Using the cloud technology just like Forza, have the game be able to study your game play and essentially clone you and your skills into the game. Allowing you to play against cloned AI of yourself
=====Full theatre system including PANCAM for all game modes so you can watch with friends (have more than one person in your party) and you can use a mic when in or out of theatre mode. Evolve into a mode where we can edit it like a machinima, add special effects, and onomonopeas. Different Zoom Levels . Actual slow-mo. Rewind with left trigger. Mesh clips together. Group editing. Upload to youtube. Tag videos. More Camera Angles, the ability to adjust each camera angle to your liking. And have it show the gamertags of who was playing in that match. While this would be great to go back and rewatch great matches between you and other players, I'll admit that the main reason why I want this is to have proof when reporting someone that's using a hacked moveset or exploiting glitches. I'm running into these people so many times I'm starting to recognize them by gamertag. How is it that they haven't been punished yet? I can't be the only one reporting them, right? Well, with this feature, we'll at least have proof of what's going on and we can send it to the moderators so they'll know it's not just us trying to get someone in trouble for no reason. You send the video and say "Look. He's cheating. There's his gamertag. Handle it."
=====Alternate weather versions (separate stages you could pick) such as sunny, rain, snow, lightning, sandstorms, fog, blizzards etc and morning, day , evening, and night
=====Custom water. If Tekken can do it, MK can do it. Adjustable Depth, colour, Temperature (icebergs and glaciers form when you make water cold, and bubbles and steam comes when you make it hot), Current/wave directions, and water flow speed (Stagnant water, or rivers moving so fast they kill you if you step in them). Ground is covered by water like the island stage from MK vs DCU to see the water change into a dark red with all the blood that was s****ed throughout a battle.
=====3DCG intro. Two sides of the story in storymode! One from the Heroes perspective and one from the Villains. Everyone should get a turn. Keep the cutscenes, but please change it so that we're not stuck with one character for a chapter. It forces the writers to put a character in fights they don't need to be in. Add nameless mooks to kill in story mode rather than constantly fight Sektor, Reptile and Baraka etc. A policeman that a bad guy can kill and a tarkatan a good guy can kill etc.
=====Team Battle mode. Allows players to make teams of up to 8 fighters and battle against a friend or CPU. After one character is defeated, the next one in line replaces them. The winner of each match will stay on and receive a slight increase in health. The last team standing will be the winner.
=====Tournament mode. Up to 16 players can take part in online tournaments. Players can also organize and host their own tournaments and stream them.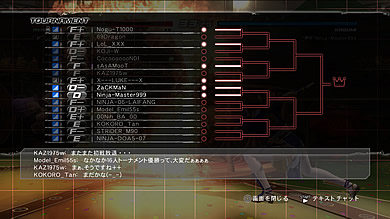 =====1P VS CPU in Versus mode - so I can pick the opponent and stage I want (as opposed to just random opponents/stages in Arcade mode)
=====CPU VS CPU in Versus mode - So I can watch max difficulty CPU characters fight on a stage that I choose.
=====4K graphics
=====Friendship (finisher) especially now with the story mode that imposes several comradeship, you'd think that Jax wouldn't rip off Sonya's arms and smash her head, no matter how annoyed he is with her at the moment, etc.
=====More funny Easter Eggs.
=====Some sort of system where if you quit too many times it will put you on a probation period and not allow you to access online features.
=====Bring chat back, but add in a spam filter so if you're annoying it will just temporarily mute you.
===== Bring back Chess.
=====Spectator mode. Users can watch other fights in real time (or of course those that are uploaded) and vote on things like Fight of the Year
===== Turn the announcer off or have the option to turn the volume down on it
=====A stage with a castle, red full moon and northern lights (sky).
=====Better matchmaking. Search for players based on their true skill rank, then you could search for players 'any skill', 'same skill' or 'higher skill' rank.
=====Subsurface Scattering. It makes skin look more realistic (same technique used in the Tomb Raider: Definitive Edition).